Full Mouth Rehabilitation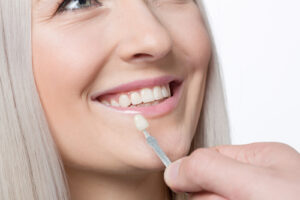 Let's face it, life happens. We get busy and sometimes we forget or are unable to take the best care of ourselves. Oftentimes, our oral health takes a hit as a result. While many patients notice problems slowly starting to surmount, others may feel overwhelmed by dental problems raining down on them.
As these dental problems did not develop overnight, they are usually not fixed overnight. However, one thing is certain: dental problems almost always involve multiple disciplines of dentistry and the goal is rehabilitation—of your function, your health, and appearance. In any case, it is important that patients be treated comprehensively and in an efficient manner that makes good, logical sense. As Dr. Ryff puts it, "we do not want to be watering the garden while the house is on fire." Whatever the nature or extent of your dental problems, you can rest assured that Drs. Ryff, Chiappetti, and Coombs will approach your case with 'the big picture' in mind and your best interests at heart.
Candidates for Full Mouth Rehabilitation
There are many symptoms associated with conditions warranting dental rehabilitation. If any of these issues sound familiar, you will likely benefit from comprehensive treatment:
Persistent bad breath, despite brushing and using mouthwash
Poorly-controlled diabetes
Multiple missing teeth, which may impact your ability to chew and/or may make you embarrassed to smile
Stains or discoloration of your teeth
Extreme tooth decay
Cracked or broken teeth
Crooked, crowded, or overlapping teeth
Spaces or gaps between teeth, which trap food (especially meat)
If you think you are a candidate for full mouth rehabilitation, please contact our office today to schedule a consultation with one of our dentists.
Full Mouth Rehabilitation Treatments
Full mouth rehabilitation must not always be extensive and each case is uniquely tailored to your needs and goals. During your consultation, one of our dentists will evaluate your oral health comprehensively and discuss the options that are available to you. Oftentimes, treatment involves one or more of the following:
Periodontal Care
Science has proven that health of the gums is linked, impacts, and is impacted by every system in the human body. From diabetes to heart disease, Alzheimer's to erectile dysfunction and more, keeping your gums healthy is important not only for quality of life, but for life at all. Our comprehensive periodontal treatment approach will make your gums healthy and keep it that way. This will help keep bad breath at bay and many patients will find their overall health status improves.
Porcelain Veneers
Porcelain veneers can be used to conceal perceived flaws in your smile, such as stains, chips, gaps, malalignment, and other imperfections. Veneers are madeup of a thin ceramic material that is designed to cover the front part of certain teeth, which drastically improves appearance and gives many the confidence they have always wanted. This helps many of our patients feel confident smiling in photos, in front of other people and especially loved ones. While some patients seek veneers for their own self-confidence, others are interested in landing that promotion or a new job… or perhaps even that hot date. Regardless of your reasons, it is important that patients understand that not all veneers are created equal. For a truly beautiful, natural, and long-lasting result, three key things must not be ignored: materials, smile design, workmanship. There are many 'generic' or off-brand materials out there today. At our practice, we insist on using only brand name e.max® ceramic. When it comes to the best balance of strength and esthetics, it is simply the best. Design is also critical. Our dentists listen closely to your goals and utilize digital photography alongside cutting-edge technology to develop just the right shape, style, and proportions, compatible with your facial shape and symmetry. So that there are no surprises, our dentists fabricate a prototype, so that you can see what everything will look like before proceeding. Lastly, there is no substitute for a steady hand, attention to detail, and pride in workmanship. Like most things in life, you get what you pay for. At Scottsdale Smile Center, we cannot be the cheapest, but we will absolutely deliver on giving you the very best dentistry has to offer.
Tooth-Colored Fillings
Our fillings are free of mercury-based amalgam and are composed of a durable, 3M  brand name material. Tooth-colored fillings are used to treat cavities and decay, while blending in with your natural teeth. This material is also great for minor cosmetic improvements for front teeth.
CEREC® Crowns
We can utilize CEREC® milling technology to create custom dental crowns right here in our office, in just one visit. These dental restorations are made up of durable e.max® ceramic and can be perfectly color-matched to your surrounding teeth.
Dental Implants
Dental implants allow us to replace a single tooth, multiple teeth, or sometimes all of your teeth. Technology has made implant dentistry very predictable and much more simple. Our practice uses only high-quality implants, including Straumann®, Nobel®, and Astra®.
If you would like more information about any of the above treatments for full mouth rehabilitation, please contact our office today.