At Scottsdale Smile Center, Dr. Jonathan Coombs, Dr. Brandon Ryff, and Dr. Don Chiappetti strive to remain leaders in the community while volunteering their time and expertise to help those in need. Over the years, they have teamed up with a number of organizations dedicated to providing dental services and care for the less fortunate. Below is a list of some of the volunteer work and organizations in which our Scottsdale dentists are currently involved.
Boys & Girls Club of Scottsdale – Since 1988, Dr. Chiappetti has been involved with the Boys & Girls Club of Scottsdale to treat the dental needs of disadvantaged children on an ongoing basis.
Smiles for Success – Drs. Coombs and Chiappetti work with "Smiles for Success" to help transform the smiles and lives of homeless and recovering individuals.
Ecumenical Chaplaincy for the Homeless – Drs. Coombs and Chiappetti volunteer at Ecumenical Chaplaincy for the Homeless to help struggling individuals and families receive the dental care they need.
Christina's Smile – Sponsored by the PGA TOUR and Champions Tour, Drs. Coombs and Chiappetti volunteer with Christina's Smile to treat hundreds of children in fully-equipped mobile dental clinics.
Arizona Mission of Mercy – Drs. Ryff and Chiappetti have participated in this event every year since its inception. In addition to their financial contributions, they enjoy volunteering in order to help provide Arizona residents with free dental care and education.
Salvation Army Christmas Angel/Forgotten Angel Program – Spreading kindness during the holidays is an important goal for our dentists, who have participated in the Salvation Army's Christmas Angel program for years. In 2021, they also took part in the organization's Forgotten Angel program, which is designed to help in cases where tags were removed from various Christmas trees, but the presents never showed up. The Forgotten Angel program fulfills those forgotten tags so that even more children will have presents to open for Christmas.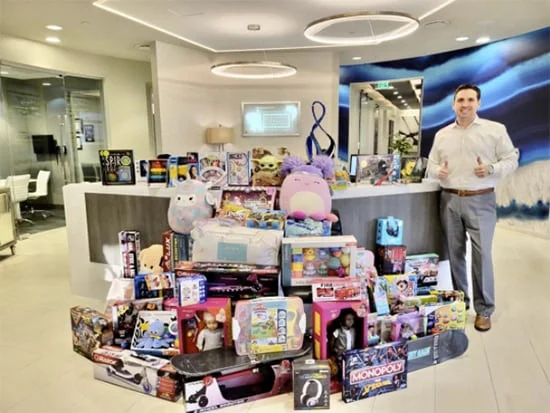 Contact Scottsdale Smile Center
For more information regarding the volunteer work of our Scottsdale dentists, please contact Scottsdale Smile Center today.