Meet Dr. Ryff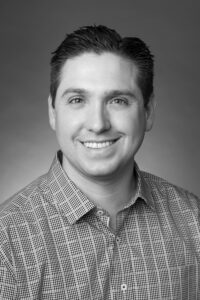 Doctor Brandon Ryff attended college at the University of Arizona, where he graduated cum laude with a Bachelor of Science degree in Molecular & Cellular Biology and a Bachelor of Health Science degree in Physiology. Pursuing his life-long dream of becoming a dentist, he continued on to earn his Doctor of Dental Surgery (DDS) at the University of Michigan–School of Dentistry, which is consistently a top-ranked dental school. In fact, according to QS Top University Rankings, it is currently the number one dental school in the nation (and number two in the world!).
Following dental school, trained and well-prepared from a clinical standpoint, Dr. Ryff began practicing in Gilbert, AZ. He quickly came to the conclusion, however, that his vision of delivering high-quality dentistry alongside an excellent patient experience could not be realized without a highly skilled, cohesive, and motivated team of likeminded individuals behind him. Dr. Ryff felt that at the core of such a "dream team" had to be a strong leader.
Dr. Ryff then pursued and completed a three-year Professional Graduate Certificate program through Harvard University, earning a certificate in Strategic Management. This unique curriculum taught him incredible leadership, team-building, and people skills that reflect in the high quality of care his patients receive. Dr. Ryff brought these strategies and skills with him to Scottsdale Smile Center, where he now leads our "dream team" of likeminded individuals, committed to high-quality dentistry, top-notch service, and ethical standards—always keeping the best interest of each individual at heart.
Dr. Ryff is highly skilled in a wide range of dental treatments and procedures, from porcelain veneers and complete smile makeovers to dental implants, root canals, extractions, and same-day crowns milled right here in the office. Continually seeking to hone his expertise, Dr. Ryff is extremely active in attending various continuing education opportunities as he continues to pursue his Fellowship from the Academy of General Dentistry. He remains an active member of the following organizations:
Arizona Dental Association
Academy of General Dentistry
Spear Study Club
Paradise Valley Study Club
AZ Premier Study Club
Outside of the office, in his spare time, Dr. Ryff enjoys the company of his wife, Marissa—a bone marrow transplant/oncology nurse at the Mayo Clinic in Scottsdale—as well as his chocolate lab, Kona, and cat, Purrpa. He also likes to hunt, fish, camp, and garden. Every summer Dr. Ryff and his wife look forward to visiting family in Michigan and spending time up at the beach house in Harbor Springs.
In His Own Words…
"Being a dentist is a huge honor and privilege. People come to me and trust me to help make them healthy. Contributing to the improvement of someone's quality of life is incredibly fulfilling to me. Sometimes we are improving someone's appearance, which can boost their self-esteem, help them get a date, or even help them land that dream job or promotion. Other times, the patient just wants to be able to eat a steak again. Whatever the goal is, they need our help to get there. This is a true honor that I really take to heart. I call myself a dental nerd because I get so excited about what we do and all the technology available nowadays. Improving quality of life is the biggest and best reward, and doing so alongside an incredible team of likeminded dental nerds at Scottsdale Smile Center makes it even better.
"Speaking of the team, I'm very proud of the fact that—not counting the doctors—the team has been part of Scottsdale Smile Center with a combined tenure of over 135 years! Employees in most offices come and go, but at Scottsdale Smile Center, it's different. The team has always been made to feel appreciated and valued. They know their work is meaningful, and the atmosphere is one where they feel energized and accomplished at the end of the day, not drained and defeated. When the culture of the organization breeds positivity and enthusiasm, it spills over into patient care. This is just part of the many reasons why we have so many long-standing patients!"
Contact Scottsdale Smile Center
To learn more about Dr. Ryff, we encourage you to continue reading the information provided below. If you have any questions, or if you would like to schedule an appointment, please do not hesitate to contact our office today.