Discreet Orthodontic Treatment for Adults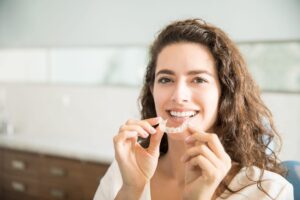 The thought of having to wear prominent metal appliances on the teeth for an extended period of time often makes the prospect of orthodontic treatment unappealing to adults who wish to correct teeth misalignment. Fortunately, there have been many innovations over the years that make it possible for both adult and adolescent patients to resolve common orthodontic concerns without compromising smile aesthetics during the treatment process.
Our dentists at Scottsdale Smile Center offer two popular options that can correct the appearance of misalignment, crowding, excessive spacing, and other issues in the most discreet way possible:
Invisalign®
Invisalign® is capable of straightening the teeth and even correcting mild to moderate bite irregularities without reliance on metal brackets and wires affixed to the teeth. Made of a translucent plastic material, Invisalign® is a flexible and removable orthodontic appliance designed to gradually correct misalignment by moving the teeth into a new position. The Invisalign® aligners are so thin and clear that it's difficult to notice them when they are on the teeth, even at a close distance.
Porcelain Veneers
In some cases of teeth misalignment and crowding, ongoing orthodontic treatment may not be necessary. Cosmetic dental restorations such as porcelain veneers can be placed in areas exhibiting signs of spaces or a "crooked" appearance. These custom-designed restorations are attached to the front part of the teeth in the area targeted for treatment, and are color-matched to surrounding teeth to produce natural-looking results. In effect, porcelain veneers are able to "mask" certain types of orthodontic concerns and give the teeth a straighter, healthier look. These treatments typically require just two office visits and create results that can last years into the future.
In some cases, patients may choose to undergo a very short-term, limited Invisalign® treatment prior to receiving veneers. In many cases, going this route makes sense because it can reduce the number of veneers that may otherwise be necessary to achieve the same result. While not every patient is a candidate for this approach, many individuals appreciate a more conservative approach to treatment. Also, by reducing the number of veneers, sometimes Invisalign® treatment can reduce the overall, total treatment cost.
Are you considering orthodontic treatment? If so, please contact us today with any questions you may have, or to schedule a consultation. Our dentist can talk with you about your concerns and recommend the treatment option that is most ideal for your needs.