How Long do Porcelain Veneers Last?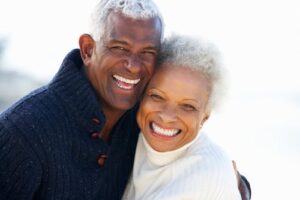 When properly cared for, high-quality porcelain veneers can last decades. While many dental veneers are made from a durable porcelain material, there are a number of additional factors that can influence the lifespan of your veneers, including:
Type of veneer
Quality of the laboratory in which the veneer is made
Skill of the ceramist
Bonding method
Skill and experience of your cosmetic dentist
Patients who are prone to clenching or grinding their teeth may consider wearing a night guard to help protect the veneers while they sleep. In addition, routine brushing and flossing as well as twice-yearly professional teeth cleanings from your dentist can help extend the lifespan of your veneers. Should a single dental veneer become damaged, it can usually be easily replaced without having to replace any others that remain in good shape.
At Scottsdale Smile Center, Dr. Jonathan Coombs and Dr. Don Chiappetti are highly skilled in custom-designing and placing porcelain veneers to achieve natural-looking, long-lasting results. If you have any further questions about porcelain veneers, or if you would like to schedule an appointment with one of our dentists, please do not hesitate to contact our office today.