How to Remove Yellow Stains from Teeth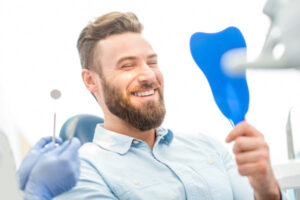 Most individuals will experience some degree of yellowing or discoloration on the teeth at some point in life. Even if you have taken excellent care of your teeth and do all the right things to maintain the best possible oral health, factors both within your control and outside your control can cause the teeth to develop a progressively yellow appearance. The natural aging process, tobacco use, and consuming common foods and beverages that contain staining agents over many years are factors that are largely responsible for this effect. With that in mind, it's important to know that dental stains and discoloration can be successfully improved with advanced treatments designed to refresh and renew your smile with beautiful results.
Here are two of the most popular (and effective) ways to address signs of yellow stains on the teeth:
Teeth Whitening
Professional-grade teeth whitening treatments can provide significant improvement for teeth affected by mild to moderate levels of discoloration. An in-office procedure involves the application of powerful (yet safe) whitening agents to address stains that have developed deep within the enamel over a long period of time. A professional teeth whitening treatment at Scottsdale Smile Center is capable of making the teeth several shades lighter, ultimately reducing signs of discoloration and creating a whiter, healthier-looking smile. Our take-home kits can also provide effective teeth whitening, and contain stronger whitening agents when compared to many of the standard over-the-counter products available.
Porcelain Veneers
Some individuals may have particularly severe staining and discoloration of the teeth. In these cases, porcelain veneers can often serve as the ideal treatment option. Porcelain veneers are custom-designed dental restorations that are securely placed over the front and sides of the affected teeth. They are made to look exactly like natural teeth, and will ultimately serve to "hide" the stains behind cosmetic restorations that are color-tinted to produce a more refreshed look. Porcelain veneers can be exceptional options for patients with significantly noticeable yellowing and dark stains that have formed on the teeth, and they can last for decades with the proper care.
Both porcelain veneer treatments and teeth whitening procedures can be effective options on their own, or they can be part of a full smile makeover for comprehensive cosmetic dental rejuvenation. If you feel your smile has been aesthetically compromised by discoloration, please contact our dentists today to schedule a consultation. We will be happy to talk with you about the best options for your needs and goals.