Professional vs. Over-the-Counter Teeth Whitening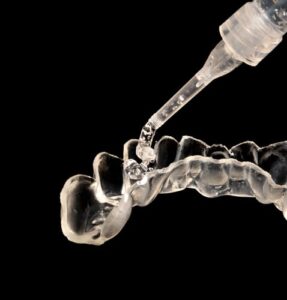 With the wide variety of teeth whitening products available today, deciding whether to go with an over-the-counter technique or visit the dentist for professional treatment can be a tough choice to make. Though both options have shown to reduce stains and brighten teeth for many people, a few dissimilarities exist between over-the-counter and professional-grade teeth whitening that may shed some light on which approach could help you best achieve the vibrant smile you desire.
According to our dentists – Dr. Jonathan Coombs and Dr. Don Chiappetti – teeth whitening treatments performed in-office by a qualified dental professional often have the following advantages over store-bought methods:
A more powerful bleaching formula for quicker, often brighter results
Treatment can be customized based on the individual's unique needs and desires
A more controlled application process that can help minimize gum irritation
Expert care of a skilled dentist and his/her staff, which can help improve both the efficiency and effectiveness of treatment
In the end, this is not to say over-the-counter whitening products cannot help someone brighten the shade of their teeth – many women and men have attained excellent results with these methods. However, to help make certain an optimal color and overall whitening outcome is achieved in the safest, most effective manner possible, the best option is typically to receive professional treatment from an experienced dental care provider.