Scottsdale Dentists Highlight the Comprehensive Smile Design Procedure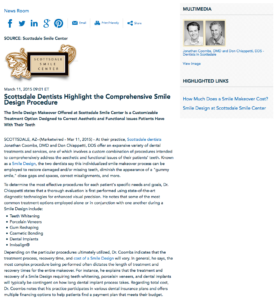 The Smile Design makeover offered at Scottsdale Smile Center is a customizable treatment option designed to correct aesthetic and functional issues patients have with their teeth.
Scottsdale, AZ — At their practice, Scottsdale dentists Jonathan Coombs, DMD and Don Chiappetti, DDS offer an expansive variety of dental treatments and services, one of which involves a custom combination of procedures intended to comprehensively address the aesthetic and functional issues of their patients' teeth. Known as a Smile Design, the two dentists say this individualized smile makeover process can be employed to restore damaged and/or missing teeth, diminish the appearance of a "gummy smile", close gaps and spaces, correct misalignments, and more.
To determine the most effective procedures for each patient's specific needs and goals, Dr. Chiappetti states that a thorough evaluation is first performed using state-of-the-art diagnostic technologies for enhanced visual precision. He notes that some of the most common treatment options employed alone or in conjunction with one another during a Smile Design include:
Teeth Whitening
Porcelain Veneers
Gum Reshaping
Cosmetic Bonding
Dental Implants
Invisalign®
Depending on the particular procedures ultimately utilized, Dr. Coombs indicates that the treatment process, recovery time, and cost of a Smile Design will vary. In general, he says, the most complex procedure being performed often dictates the length of treatment and recovery times for the entire makeover. For instance, he explains that the treatment and recovery of a Smile Design requiring teeth whitening, porcelain veneers, and dental implants will typically be contingent on how long dental implant process takes. Regarding total cost, Dr. Coombs notes that his practice participates in various dental insurance plans and offers multiple financing options to help patients find a payment plan that meets their budget.
Ultimately, Drs. Chiappetti and Coombs say their goal for Smile Design procedures is to help patients achieve smiles they are proud to show off, and the two dentists encourage anyone interested in enhancing both the appearance and function of their teeth to seek a qualified dental professional to ensure they receive an optimal level of care.
About Jonathan Coombs, DMD
Dr. Coombs obtained his dental degree from the University of Louisville and is one of only three percent of dentists to have earned "Fellowship" status with the Academy of General Dentistry by completing hundreds of continuing education hours. He also maintains active membership in the American Academy of Cosmetic Dentistry, the American Academy of Implant Dentistry, and several other esteemed dental associations, as well as multiple charity organizations.
About Don Chiappetti, DDS
Dr. Chiappetti earned his Doctorate of Dental Surgery from the University of Southern California and has since been dedicated to continuing education across all aspects of dental care. He is an active member of such organizations as the Academy of General Dentistry and the American Dental Association, and he also volunteers his services and expertise to different charities in the Scottsdale-Phoenix area.

Both Dr. Coombs and Dr. Chiappetti are available for interview upon request.
For more information, visit scottsdalesmile.com and facebook.com/ScottsdaleSmileCenter.
Contact:
Scottsdale Smile Center
Lincoln Plaza Medical Center
7125 E. Lincoln Drive, Suite 106
Scottsdale, AZ 85253
480-304-7649
Rosemont Media
(858) 200-0044
www.rosemontmedia.com