Scottsdale Dentist Discusses Invisalign® and The Latest Digital Intraoral Scanning Technology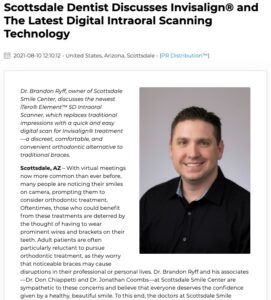 Dr. Brandon Ryff, owner of Scottsdale Smile Center, discusses the newest iTero® Element™ 5D Intraoral Scanner, which replaces traditional impressions with a quick and easy digital scan for Invisalign® treatment—a discreet, comfortable, and convenient orthodontic alternative to traditional braces.
Scottsdale, AZ – With virtual meetings now more common than ever before, many people are noticing their smiles on camera, prompting them to consider orthodontic treatment. Oftentimes, those who could benefit from these treatments are deterred by the thought of having to wear prominent wires and brackets on their teeth. Adult patients are often particularly reluctant to pursue orthodontic treatment, as they worry that noticeable braces may cause disruptions in their professional or personal lives. Dr. Brandon Ryff and his associates—Dr. Don Chiappetti and Dr. Jonathan Coombs—at Scottsdale Smile Center are sympathetic to these concerns and believe that everyone deserves the confidence given by a healthy, beautiful smile. To this end, the doctors at Scottsdale Smile Center offer several alternative orthodontic options—including Invisalign® and/or porcelain veneers—that can provide a more comfortable, convenient, and discreet approach to treatment. The hope is that by offering these alternatives, high-quality orthodontic care can be made accessible to those who may otherwise avoid more aesthetically disruptive treatments.
Invisalign® treatment utilizes a series of custom-made removable, clear plastic aligners to gently and progressively address orthodontic concerns for a beautiful, long-lasting result.The aligners are made of a thin, flexible, high-quality plastic that is nearly invisible once it has been placed on the teeth. Furthermore, unlike traditional metal braces, which are firmly bonded to the teeth, Invisalign® aligners are designed to be removed while patients are eating, drinking, or performing their regular oral hygiene routine.
According to Dr. Ryff, Invisalign® treatment can help correct a range of orthodontic concerns, including gaps between the teeth, irregular spacing, overcrowding, and misaligned teeth. It can also address alignment issues, such as overbite, underbite, and crossbite. Invisalign® works by gradually and progressively shifting the teeth into the desired alignment using a sequential set of clear aligners. Each set is slightly modified from the previous one in order to continue gently repositioning the teeth and encouraging orthodontic improvement. Exact treatment times will vary, but on average, each set of aligners is worn for about two weeks before being switched out for the next set in the series. This process continues until the desired alignment is achieved. Average treatment time is approximately 9 months, but some patients may require more or less time to obtain an optimal outcome.
The doctors at Scottsdale Smile Center are excited to announce that they have acquired the newest in cutting-edge dental technology, the iTero® Element™ 5D Intraoral Scanner. This technology has revolutionized dentistry, making Invisalign® treatments more convenient and streamlined than ever before. Both the Invisalign® clear aligner system and iTero® line of intraoral scanners were developed by Align Technology, and they are designed to be synchronous with one another. According to Dr. Ryff, the iTero® Element™ 5D eliminates the need for traditional impressions, which many patients relate as messy, bad-tasting, and uncomfortable. Instead, this new technology creates high-quality digital impressions of the teeth, gums, and other oral structures in just a few minutes. These digital files can then be instantly sent to the dental laboratory, where they are used to fabricate orthodontic aligners and retainers. Another feature of the iTero® Element™ 5D is the Invisalign® Outcome Simulator, which can help patients visualize their potential results and track their treatment progress. Dr. Ryff hopes that being able to see a simulated version of what their smile can look like will help patients remain motivated and engaged throughout the Invisalign® process.
The iTero® Element™ 5D also has the ability to scan internal tooth structure, which can help identify cavities in real time. Also, for purposes of tracking wear patterns of the teeth over time, this scanner can show precisely which teeth have changed and by how much, compared to the previous scan. This is particularly helpful for patients who think they may be grinding their teeth at night.
Dr. Ryff notes that while Invisalign® can often offer a more comfortable and aesthetically pleasing treatment experience, it may not be ideal for every case. Clear aligner systems are generally quite effective at correcting mild-to-moderate orthodontic problems, but may not be the best option for those experiencing more severe or complex alignment concerns. In these cases, traditional metal braces may still be required in order to provide optimal results. Alternatively, some patients may be able to achieve their desired results using cosmetic dentistry solutions, such as porcelain dental veneers. Veneers can help conceal gaps, chips, spaces, and other minor alignment issues using thin sheets of high-quality porcelain that are bonded to the fronts of the teeth. This application of veneers, sometimes referred to as "instant orthodontics," can also be used to alter the color and shape of the teeth for a brighter, whiter, more uniform smile aesthetic. Furthermore, Dr. Ryff states that even patients who are not pursuing an Invisalign® treatment can benefit from the advanced imaging abilities of the iTero® Element™ 5D. The fully-digital impressions can provide increased accuracy and efficiency for a number of restorative, general, and cosmetic dentistry treatments—eliminating the traditional impressions of the past.
Ultimately, Dr. Ryff states that there are now more options available than ever when it comes to discreetly and comfortably addressing orthodontic concerns. In order to determine which option is best suited to them, he strongly recommends that patients consult with a qualified dental professional. From there, a comprehensive oral examination can be conducted and personalized treatment recommendations can be made based on the unique needs and goals of each patient.
About Brandon Ryff, DDS
Dr. Brandon Ryff is the owner of Scottsdale Smile Center, where he and his associates—Drs. Don Chiappetti and Jonathan Coombs—are committed to providing high-quality dental care and an excellent patient experience. A graduate of the University of Michigan School of Dentistry, Dr. Ryff has remained committed to continuing his education, and he actively seeks out opportunities to expand his field of expertise. He is an active member of the Academy of General Dentistry, the Arizona Dental Association, and several other prominent professional organizations. In addition to providing Invisalign® treatments, Dr. Ryff and his associates offer a range of cosmetic, restorative, and general dentistry options, including dental implants, dentures, All-On-4®, teeth whitening, TMJ/TMD treatment, and more. Dr. Ryff is available for interview upon request.
For more information, visit scottsdalesmile.com and facebook.com/ScottsdaleSmileCenter.
Contact:
Scottsdale Smile Center
5410 N Scottsdale Rd
Ste D-500
Paradise Valley, AZ 85253
(480) 991-2180
Rosemont Media
(800) 491-8623
www.rosemontmedia.com