Scottsdale Cosmetic Dentist Preserves Tooth Structure With Conservative Smile Makeover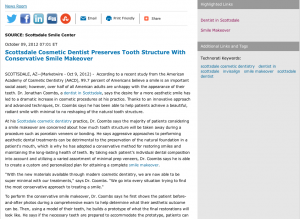 Scottsdale, AZ — According to a recent study from the American Academy of Cosmetic Dentistry (AACD), 99.7 percent of Americans believe a smile is an important social asset; however, over half of all American adults are unhappy with the appearance of their teeth. Dr. Jonathan Coombs, a dentist in Scottsdale, says the desire for a more aesthetic smile has led to a dramatic increase in cosmetic procedures at his practice. Thanks to an innovative approach and advanced techniques, Dr. Coombs says he has been able to help patients achieve a beautiful, radiant smile with minimal to no reshaping of the natural tooth structure.
At his Scottsdale cosmetic dentistry practice, Dr. Coombs says the majority of patients considering a smile makeover are concerned about how much tooth structure will be taken away during a procedure such as porcelain veneers or bonding. He says aggressive approaches to performing aesthetic dental treatments can be detrimental to the preservation of the natural foundation in a patient's mouth, which is why he has adopted a conservative method for restoring smiles and maintaining the long-lasting health of teeth. By taking each patient's individual dental composition into account and utilizing a varied assortment of minimal prep veneers, Dr. Coombs says he is able to create a custom and personalized plan for attaining a complete smile makeover.
"With the new materials available through modern cosmetic dentistry, we are now able to be super minimal with our treatments," says Dr. Coombs. "We go into every situation trying to find the most conservative approach to treating a smile."
To perform the conservative smile makeover, Dr. Coombs says he first shows the patient before-and-after photos during a comprehensive exam to help determine what their aesthetic outcome can be. Then, using a model of their teeth, he builds a prototype of what the final restorations will look like. He says if the necessary teeth are prepared to accommodate the prototype, patients can leave the office with an identical match of their future veneers. Dr. Coombs adds that another advantage of refining the prototype is that it allows his patients to get a sneak peek of the end result. After both he and the patient are satisfied with the prototype for the final veneer, he says the new veneers are duplicated using this refined prototype. Dr. Coombs adds the result is a finely-tuned smile built completely to the specifications of the patient and dentist, with minimal alteration to the natural tooth structure.
"Our desire is to help patients achieve a result they are happy with," he says. "We want to make sure patients are 100 percent positive that the final look is what they're going for."
Because the conservative approach requires experienced precision and a qualified hand, Dr. Coombs says he urges patients to consult with a trained, dedicated cosmetic dentist before undergoing any procedure. Regardless of whether they are looking for porcelain veneers or Invisalign®, he says taking the time to extensively research one's practice can help patients ensure they receive the highest quality care and the longest-lasting results.
About Jonathan S. Coombs, DMD, FAGD
A graduate of the University of Louisville Dental School, Dr. Jonathan Coombs has dedicated hundreds of hours to his continued education and has achieved the Fellowship status with the Academy of General Dentistry, an honor attained by less than 3 percent of dentists. He is a member of the American Academy of Cosmetic Dentistry, the American Academy of Implant Dentistry, and several other professional organizations. Dr. Coombs is certified in CEREC® restorations, Invisalign®, and advanced tooth whitening techniques. He also volunteers his time and services with the Give Back a Smile program for victims of domestic violence and Christina Smile, providing care for Boys and Girls Club kids.
Located at 7125 E. Lincoln Drive Suite 106 in Scottsdale, AZ, Dr. Coombs' practice can be reached at (480) 304-7649. He and his team can also be contacted online via the websites scottsdalesmile.com or facebook.com/ScottsdaleSmileCenter.