Dr. Brandon Ryff Joins Team of Dentists at Scottsdale Smile Center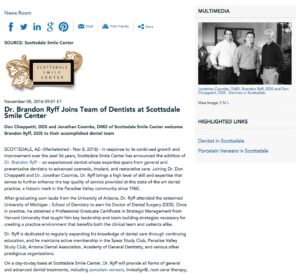 Don Chiappetti, DDS and Jonathan Coombs, DMD of Scottsdale Smile Center welcome Brandon Ryff, DDS to their accomplished dental team.
Scottsdale, AZ — In response to its continued growth and improvement over the past 56 years, Scottsdale Smile Center has announced the addition of Dr. Brandon Ryff—an experienced dentist whose expertise spans from general and preventative dentistry to advanced cosmetic, implant, and restorative care. Joining Dr. Don Chiappetti and Dr. Jonathan Coombs, Dr. Ryff brings a high level of skill and expertise that serves to further enhance the top quality of service provided at this state-of-the-art dental practice, a historic mark in the Paradise Valley community since 1960.
After graduating cum laude from the University of Arizona, Dr. Ryff attended the esteemed University of Michigan–School of Dentistry to earn his Doctor of Dental Surgery (DDS). Once in practice, he obtained a Professional Graduate Certificate in Strategic Management from Harvard University that taught him key leadership and team-building strategies necessary for creating a practice environment that benefits both the clinical team and patients alike.
Dr. Ryff is dedicated to regularly expanding his knowledge of dental care through continuing education, and he maintains active membership in the Spear Study Club, Paradise Valley Study Club, Arizona Dental Association, Academy of General Dentistry, and various other prestigious organizations.
On a day-to-day basis at Scottsdale Smile Center, Dr. Ryff will provide all forms of general and advanced dental treatments, including porcelain veneers, Invisalign®, root canal therapy, implant dentistry, complete smile makeovers, and full mouth rehabilitations. Dr. Chiappetti will continue to serve patients full-time, and Dr. Coombs will now be seeing patients on a part-time basis.
Ultimately, the Scottsdale Smile Center team is thrilled with the addition of Dr. Ryff, and they look forward to the positive impact he will make. "Dr. Ryff's clinical skills, leadership style, and personality will benefit our practice tremendously," states Dr. Chiappetti. "His credentials are impeccable, and his philosophy and vision are aligned with ours. We are confident that he will prove to be a valuable asset to our practice."
About Scottsdale Smile Center
Scottsdale Smile Center is a comprehensive dental practice devoted to providing the highest quality of oral care available. From routine cleanings and teeth whitening to dental implants and Invisalign®, the team of experienced dentists and skilled hygienists is committed to improving both the health and appearance of every patient's smile in a relaxing and comfortable environment. Above all else, Scottsdale Smile Center holds quality, patient experience, and efficiency in the highest regard, enabling them to deliver exceptional results and top-notch service.
For more information, visit scottsdalesmile.com and facebook.com/ScottsdaleSmileCenter.
Contact:
Scottsdale Smile Center
Lincoln Plaza Medical Center
7125 E. Lincoln Drive, Suite 106
Scottsdale, AZ 85253
480-991-2180
Rosemont Media
(858) 200-0044
www.rosemontmedia.com