How Do CEREC® Crowns And Lab-Made Crowns Differ?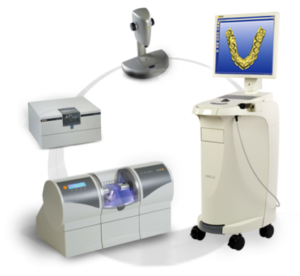 Dental crowns can be a very effective method of restoring form and function to teeth that have been compromised by cracks, large cavities, or root canal therapy. Traditionally, patients would visit the dentist's office to have an impression taken of the affected tooth. Then they would wait a number of weeks for the crown to be manufactured at an outside laboratory before returning to the dentist's office to have their crown secured into place. With state-of-the-art CEREC® technology, however, this dental restoration process has been simplified, and now your custom-made crown can often be designed, created, and secured right in our office during a single visit.
In addition to the convenience of these same-day restorations, CEREC® crowns often involve fewer injections and less drilling than is typically necessary for lab-made crowns. During the sole office visit for CEREC® crowns, a digital camera will first be used to capture an image of the damaged tooth. This data is then imputed into the CEREC® machine to design and mill your crown from high-quality ceramic material, maximizing the precision of the final fit. Finally, the CEREC® crown is colored to match your surrounding teeth, ultimately providing you with a beautiful, durable new tooth in one visit.
For more information about CEREC® crowns, or if you would like to schedule an appointment with Dr. Jonathan Coombs or Dr. Don Chiappetti, please contact Scottsdale Smile Center today.