CEREC®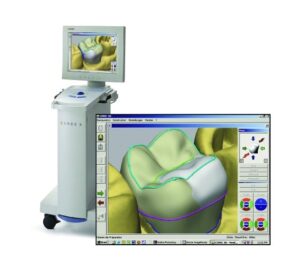 CEREC® is one of the most significant advances in dentistry in recent years. The only system of its kind, CEREC® milling technology has the ability to create custom-designed dental crowns, fillings, and other restorations right here at our practice during your appointment. Since CEREC® allows our Scottsdale dentists to craft most dental restorations here in our office, you will not have to wait weeks before the final placement.
With CEREC® technology, patients at Scottsdale Smile Center can now benefit from fewer injections, reduced dental visits, and less drilling. Once your tooth has been prepared for the restoration, an image of it will be taken with a special camera. This image will be used to design the new restoration, and the resulting data will be fed into the CEREC® machine here at our practice. The new restoration will be precisely molded from a high-quality block of ceramic, and it will be color-matched to your surrounding teeth for the most natural-looking results. CEREC® same-day restorations can give you a strong, beautiful new tooth without the inconvenience of having them created at an outside lab.
Contact Scottsdale Smile Center
If you would like more information on CEREC® dental restorations, or if you would like to schedule an appointment, please contact Scottsdale Smile Center today.